Release of SORPAS Mechanical Joining Software
– based on the success of SORPAS 2D.welding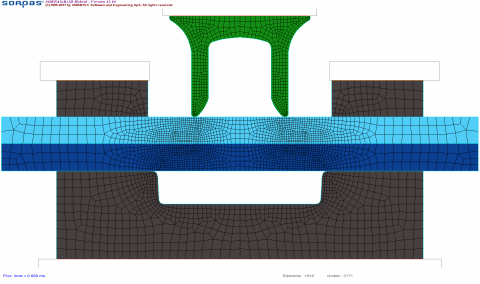 For a long time, we have been asked to develop a new SORPAS 2D mechanical joining module.
Therefore we are pleased to announce the release of the new SORPAS 2D.joining module, where we have focused on developing a software as effective as our SORPAS 2D.welding.
This new module means that now you can make simulations of both resistance welding and mechanical joining as well as the combined hybrid joining processes for joining similar and dissimilar materials in automotive and aerospace applications.
We are so convinced about the new module that we offer all SORPAS users a test license!
Get a free test license
Are you a licensed user of SORPAS? Then we are pleased to offer you a FREE license of the new SORPAS 2D.joining starting anytime from 20 October 2017 through to 31 December 2017.
Not already a user of SORPAS? Then we can also make a special offer for you to test the new SORPAS 2D.joining module..
One of Top 25 Simulation Providers
We are proud that APAC CIO Outlook Magazine has selected us to be among the top 25 simulation providers.
Training possibility in December, 2017
Some missed out on our training in October, so we are pleased to invite you to a 2-days free training of SORPAS on the 6th and 7th December, 2017.